Something that I am really passionate about is video creating, and the application that makes this passion possible for me is called "YouTube". 
If you somehow never heard about YouTube, than you are probably living under a rock. 
Over 2.1 Billion people all around the world actively use YouTube, and it is one, if not the most successful app in the internet.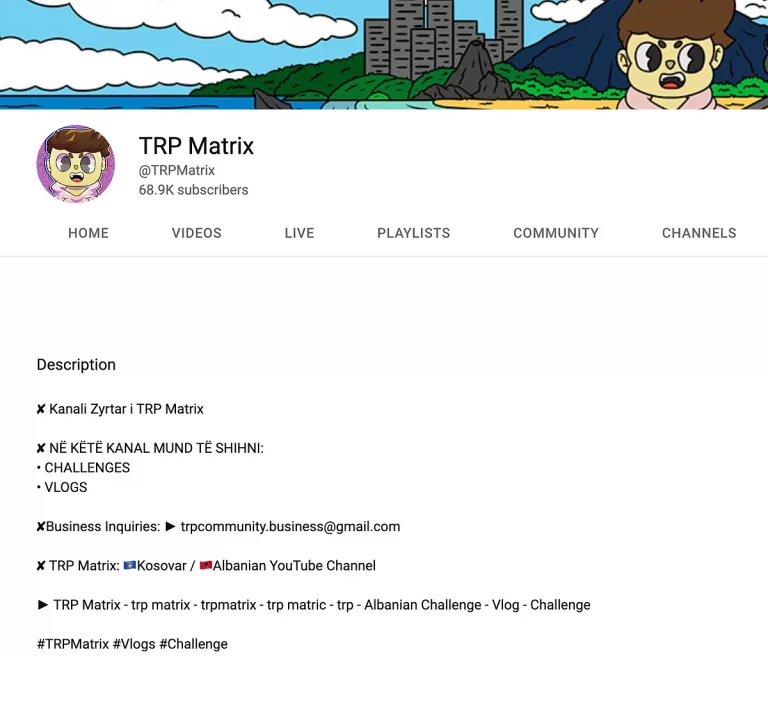 I was born in 2006, and from ever since I can remember, I always dreamt of being a youtuber. I have very old videos of a 8 year old Leart doing cringe water bottle flip videos just for them to get 20 views, with 15 of them being me myself and I. 
I say from 2006 till 2018 as in 2018, "TRP Matrix"was born, and with him a crazy journey as well. 
2018 
"TRP Matrix" was this YouTube channel created by me and my friends. "TRP" having a very funny meaning in Albanian, but in English we say it means "The Royal Party". The second word on the channel name, "Matrix", being the nickname of one of my ex best friends. And just like that, TRP Matrix was born. 
2018 – 2022
The channel TOOK OFF!!! Gaining over 15,000 subscribers in our first year, we did not stop our grind. Posting video after video, and circulating a minimum of 200,000 views per month, this was not a joke anymore. Second year, double the subscriber count, with over 20,000 additional subscribers in a single year, and over 10,000,000 total views. 2022 is coming to an end now, with TRP Matrix having 69,000 subscribers and 20,000,000 total views. 
NOT YET SUBSCRIBED???