Lenka Filkaszova & Lubica Lutz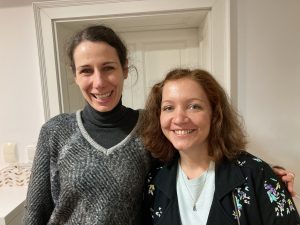 Lenka Filkaszova
Head of Central European Studies at LEAF Academy, Slovakia
English became Lenka's passion upon having lived in London for almost five years. She went on to study English Language and Literature at Comenius University and later combined it with a business perspective, earning her MBA at the City University of Seattle. Lenka has spent her whole working career helping others become better and feel better about themselves whether by speaking English more fluently or finding out a little more about their own dreams in other subjects that she has taught at universities in Slovakia and abroad (Professional Business Communication, Environmental Science, Sustainable Development, Critical Thinking). She has lectured in Finland, Lithuania and most recently taught Chinese students how to think critically at a university in Prague. She loves organizing outdoor events with an environmental twist. She believes in forming a bond with students way beyond the classroom as this transforms the education process into a lifelong experience. Her unconventional teaching methods and assignments have earned her different awards, but her best award is knowing her former students found her lessons meaningful for their future and helped them develop as a person.
Lubica Lutz
Head of Entrepreneurial Leadership at LEAF Academy, Slovakia
Ľubica believes that great organizations and innovations are based on great people. Thus, before joining LEAF, she helped develop young employees and managers in global corporations like Accenture and Alcatel-Lucent and also designed innovative products and services with 3M, Allianz, and Raiffeisen Bank as an innovation consultant. During her university studies, she volunteered with AIESEC – an international organization under the patronage of the United Nations. She has lived in Slovakia, Turkey, the United Arab Emirates, and the Czech Republic. When she discovered LEAF Academy, she decided to leave her business career and come back to her home country to help identify and develop high potential shapers for the public and business sector. She loves to help students using their individual passions to help others. She was fortunate to share her own passion for human centered design with students at UWC ISAK Japan, UWC Cyprus, grammar schools and technical highschools in Slovakia.
Lubica and Lenka both serve as two out of four team leaders for teachers at LEAF Academy. They support their people's growth and happiness, collaboration in and across the departments, and ensure impactful education for their students with the vision of higher quality of life in Central Europe.
Formative Assessment using Single Point Rubrics and 360 feedback in assessment and its impact on individual students and classroom climate
We will show you how we use single point rubrics to assess students and their performance in subject-specific areas as well as soft/human skills. We will discuss the benefits and also challenges such assessment brings. Then, we will showcase a 360 assessment that is done by students in our Entrepreneurial Leadership programme. You will see not only the procedure, but the results and follow-up.
How can we use single point rubrics for formative assessment?
What can students do in order to get a well-rounded assessment of themselves?
Grade level: K-12
December 4th, 12:00 – 12:50 PM (CET)