Since we started our roles as DEIJ leaders at AISBudapest, we have been brainstorming and planning what this would look like within our context.
We are working towards a more inclusive environment where each of our stakeholders, independently of their race, ethnicity, color, gender identity, sexual orientation, socio-economic status, and neuro-variance, are seen, listened to, and heard. 
At AISB, one of our values is inclusion; for belonging to come to fruition, we are widening our lens to more than tolerance and seeking solidarity and affirmation.
This is proving to be more challenging when answering the needs of our LGTBIQ+ student body. Hungary's law is precise regarding what adults can talk to under-18-year-olds about, and "promoting" LGBTIQ+ issues is strictly prohibited.
A couple of weeks ago, one of our students came to us asking to display posters related to Transgender Awareness Week. The posters were very informative, and he invited anyone with questions to contact him. We did not doubt for a minute that we had to honor his advocacy, voice, and courage. A grade 7 advocating for this cause can only be supported. This was a great opportunity to walk the talk and bring solidarity and affirmation alive.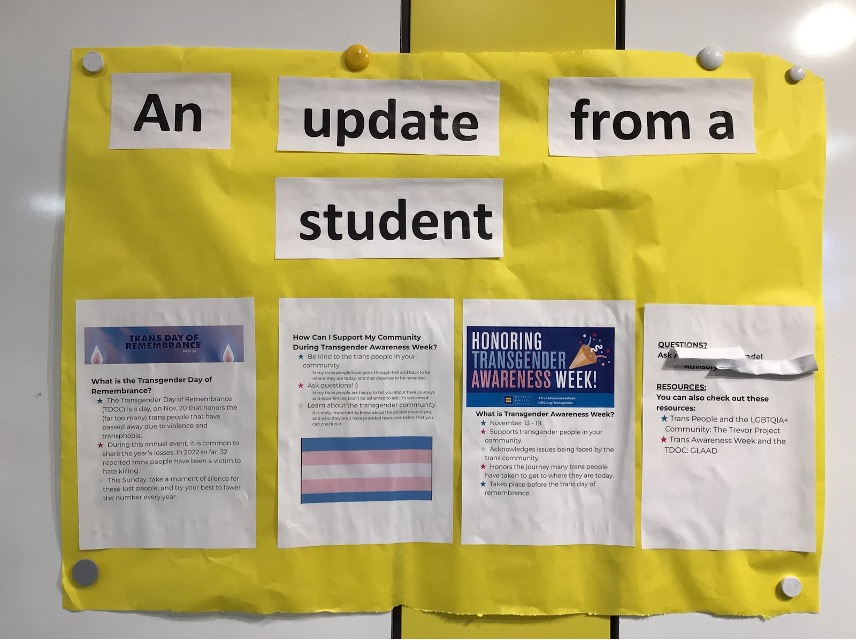 The next step was to figure out how to move forward to support this student's initiative, while working within the regulations. With the guidance of our director, Mr. Brett Penny, our strongest DEIJ ally, we have managed to display the posters in the middle of our middle school lobby.
Our grade 7 student was thrilled, affirmed, and proud of his identity. All our students have the right and power to decide which areas of their identities are the most important when defining themselves. It is our responsibility, and we must give them all the tools and opportunities to let their identities blossom.    
AISB will be continuing our DEIJ journey from different perspectives. Our next steps as a school will be laying the foundation of some work with practitioners like Emily Meadows to guide and support our community.